Ali-Lite
motor bike camper trailer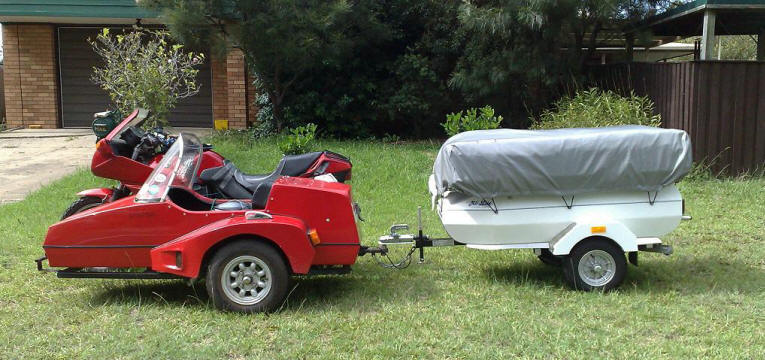 The target of Ali-Lite Camper Trailers was to produce the lightest, best engineered camper trailer using the best available materials and built in Australia by top Aussie tradesmen. Light weight and build quality were at the top of the list when the project was started.
Because of this units lighter weight it will be suitable for a much wider range of bikes – i.e. smaller bikes, but bear in mind the riding style you practice, the weight and power characteristics of your bike can make a huge difference to how a trailer handles behind your bike, as can tyre pressures and load balance.
For example a 200kg trailer really needs a bike to be a minimum of 350kgs (think Honda Gold Wing) to be comfortably towed, so by extension the 130kg trailer needs a bike with a minimum weight of 210kgs. Power of your bike needs to be considered as well and recommended is a bike with 60hp as the minimum to tow our 130kg camper trailer.
features include
•Designed by engineers with years of motorcycling experience to the very highest Australian standards.
•Meets and exceeds ADR standards.
•Only the best quality Australian manufactured materials used.
•A two sheet laser cut, folded and seam welded Aluminium body - powder coated - lasting finish.
•Steel frame (galvanised and painted) to which the suspension, wheels & trailer body is fitted.
•All up weight of 130kgs – includes trailer, tent unit, mattress, annex roof, poles, guy ropes & pegs.
•460 litres of storage space in the trailer
•Trailer interior fully carpeted
•1400mm Queen size mattress & bed base
•Wind down rear stabiliser legs
•8" mini lightweight magnesium alloy wheels
•Strong but light (2) leaf springs
•Wax Converters 8oz top quality mildew & rot proofed canvas - roof and walls
•Trailer complete with wiring and LED indicator & stop lights as approved by ADR
•Sturdy, but light weight tow hitch designed to cope with up to 250kgs weight
•Awning roof with poles, pegs & ropes
•Basic trailer colours are Black & White with your choice if pin striping colour
prices
all prices include GST
Basic Ali-Lite Camper trailer as above $7,750
Demo units occasionally become available $7,350
options
•Various colour schemes – trailer and canvas – individual enquires will be quoted on.
•Various weights of canvas for walls - individual enquires will be quoted on.
•Plain walls to create an annex - $180 - 200
•Windows for annex walls - per window $80 - 120
•Screen walls for annex - per wall $180
•Flooring material for annex - $160
•Extra annex with walls with windows – extra floor - complete $1000 approx depending on size
•Independent suspension - $695
•Towbar fitted to your bike - $500

Please direct all enquiries to the sales agents.....
•Dave Milligan 03 9331 0947 (Vic, Tas, SA, WA and New Zealand)
•Al Pennykid 0427 393 093 (NSW)
•Rob Orr 0417 262 774 (South East QLD)
•Mick Farrell 0439 541 362 (the rest of QLD)
info provided by Al Pennykid
april 2009