all terrain camper trailers
under new management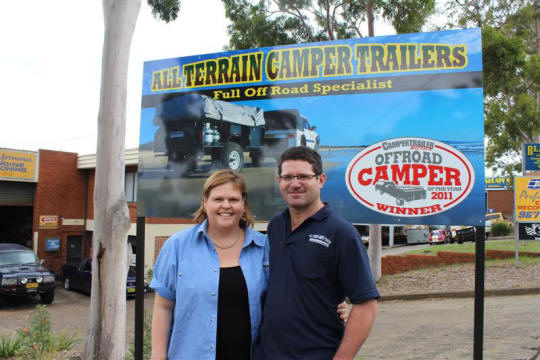 Ian & Danielle Roberts


After manufacturing camper trailers for twenty years, Glenn & Trish Wilson at All Terrain Camper Trailers have decided to sell up and take to the road, just like all those satisfied customers have done over the years.

After a recent health scare, Glenn said it was about time we did some extensive travelling and camping too. They will still be heading their tag along tours.

Ian & Danielle Roberts have bought the business & took over during the first week of February. Both are looking forward to continuing manufacturing the two time Campertrailer Australia magazine's award winner to the highest standard.

Greg Kay who does all the canvas work and Jarryd Gallagher the fabrication, are there to carry on producing the quality product we have come to know so well. There are not many camper trailer manufacturers around these days that make the whole camper in house.

The trailer is fabricated using quality parts that have been tried & tested in the field, while Australian made Wax Converters canvas is used on the tent.
All Terrain Camper Trailers are members of the AMCTG. The Australian Manufactured Camper Trailer Guild was established in 2011 by Australian industry leaders of Camper Trailer Manufacturing to ensure a consumer quality assurance. All members are subjected to engineering compliance for Australian Standards and also confirm that their complete manufacturing process is conducted in Australia with the very best of materials.

If you see Glenn & Trish on the road, stop & say hi.