armadillo campers
arma-x camper trailer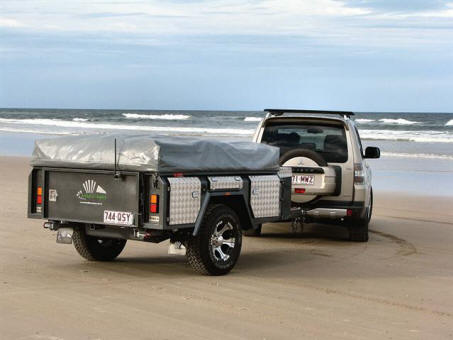 Armadillo Campers have recently relocated to Arundel on Queensland's Gold Coast. The business was started back in 2006 with a vision of a whole new approach to the camper industry bringing comfort, standard inclusions & value for money all into the one package. Customer feedback was the key factor & a package was developed with a long list of specifications without offering any of the optional extras that usually result in blowing out the buyers budget.
Armadillo Campers have now evolved from a basic off roader into the latest extreme off road camper since their beginnings. The Armadillo ARMA-X camper is built in house using the best all Australian products & with only two optional extras available, an extra room & a boat rack.
so what do you get as standard?
The 2011 ARMA-X now includes as standard a ten foot tent made from Dynaproofed canvas & a Queen size inner spring mattress. The tailgate mounted kitchen features a permanent gas connection to the Smev two burner glass lid hob with stainless steel sink plumbed to the two 85 litre water tanks with hot & cold running water via a Duoetto electric 12volt/240volt hot water heater. The heater is also connected to the shower rose cabinet mounted in the front tool box which also features a fridge slide. A handy slide out stainless steel extension bench & cutlery draw is also in the kitchen unit.
The battery system features two 100 amp hour AGM deep cycle batteries charged via 240volt from a Ctek multi XS 15000 battery charger. A 50amp Anderson plug is ready for connection to the tow vehicle, charging the campers batteries while driving. Included in the electrics package is a 120watt folding solar panel, a 12amp regulator & six metres of lead to the panel. There is a digital 12volt meter, three 12volt outlets, two LED strip lights, twin LED bedside reading lights & a 1500 watt pure sine wave inverter. An Axis CD/Multimedia player receiver with MP3/WMA/CD player, USB & SD-MMC ports and front panel auxiliary in connected to the 50watt marine speakers looks after the onboard entertainment.
The trailer is 7foot x 4foot & made from Zincaneal with a Dulux aztek silver powder coated hammered finish. Off road ability is down to the AL-KO Outback 8 leaf rebound spring suspension controlled by shocks. Standard is Alko 10inch off road electric brakes, brand new off road tyres on heavy duty 4WD alloys & a choice of either an AL-KO or Ozhitch off road couplings.
For more information please check the Armadillo Campers website at www.armadillocampers.com.au
thanks to Nikki Bray from Armadillo Campers for providing this information
november 2011