camps australia wide 5
New Release of 'The Traveller's Bible'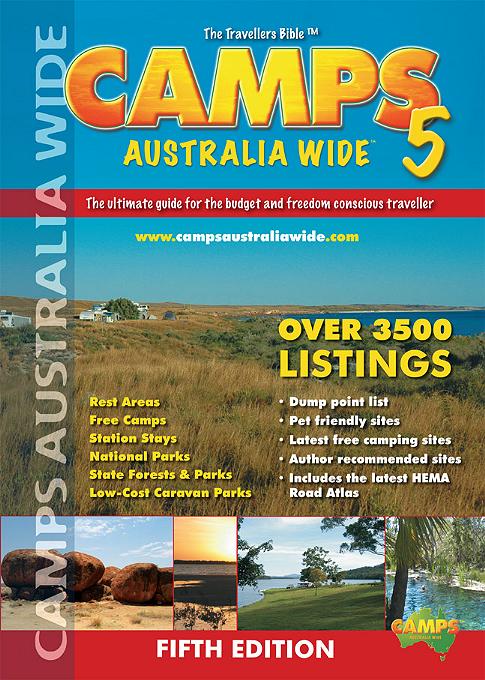 CAMPS AUSTRALIA WIDE 5th EDITION contains 408 pages in an A4 colour format. There are 400 new sites, more free camps, station stays and over night rest areas with informative symbols. It has been revised and updated with over 3,500 sites.
In the 2 years leading up to this new edition Philip & Cathryn have travelled in excess of 90,000 km reviewing existing sites and searching out new ones. Camps Australia Wide author-publisher, Philip Fennell said the self-published guide is a valuable resource for budget and freedom conscious caravanner's and motorhomer's as they travel.
"Camaraderie among these travellers generates a high level of exchange of ideas, information, and experience about their travels," he said.
"Around the daily happy hour campfire, topics of conversation will invariably turn to the availability of goods, services and the location of budget or free camp spots."
In addition to the traditional A4 size edition, the team at Camps Australia Wide has a larger 400-page, B4 version. This includes over 1900 'Camps Snaps' photos which are placed next to campsite information. This enables travellers to get a visual preview of sites and thus assist them with itinerary planning.
The Camps Australia Wide 5th edition includes the Hema Australia Road Atlas for ease of reference, a key map and highway index begin different coloured sections for each state or territory.
Philip said users of Camps Australia Wide found the guide had a friendly format. "It's easy for travellers to simply run their fingers along the route of their choice and stop at a convenient distance and place according to their individual lifestyle," he said. Camps Australia Wide contributes to the environment by listing over 600 dump points for the disposal of toilet cassette contents.
Available from 1st March 2009 at leading bookshops, outdoor stores and good newsagents, Camps Australia Wide is regularly updated on the publication's website. www.campsaustraliawide.com
info by Philip Fennell
march 2009