Eclipse Camper Trailer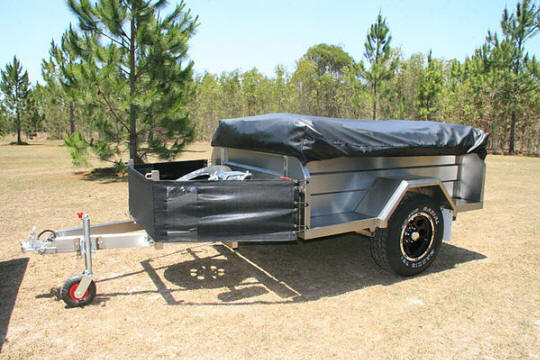 stainless chassis & tub
Johnno's Australia Pty Ltd has just released an all stainless steel camper trailer, the Eclipse. After years of manufacturing & hiring campers, Johnno's know what people want & have come up with what they feel is a niche to be filled in the present market. The all stainless tub & chassis meets consumer demand for a high quality, durable, maintenance free & corrosion resistant camper trailer. All components are laser cut from high grade 316 stainless steel & fully welded.
The Eclipse has a very innovative feature, the chassis itself is a 25 litre drinking water tank. Combined with the stainless steel water tanks that comes as standard & the optional under chassis tank behind the axle, the camper can also carry add another 65 litres of drinking water.
The chassis is made from 70 x 50 x 2.5 stainless steel RHS while the drawbar is 100 x 50 x 2.5 stainless steel RHS. Up front there is a Hylander Hitch as standard, a 8" solid jockeywheel & spare wheel behind a stoneguard.
Underneath is a 45mm square steel axle, 7 x 60mm leafs with pressure shockies, new 265/70R 16 tyres on 16x8 alloy rims & completing the setup is electric brakes. Around the outside in provision to carry a gas bottle & jerry while the stainless tent pole holder is also standard. The storage area inside the trailer is carpeted. The kitchen is stainless mounted on the swinging tailgate.

Inside the camper a stainless step makes getting into the Queen sized 125mm high density foam bed easy. The living area is 2.2 meters x 2.7 metres with a massive 2.4 meter x 6.5 meter awning. Six large windows allow plenty of ventilation.
The Eclipse comes in at 700kg dry.
For more information please check the Eclipse website at http://www.sscampertrailers.com.au They can be seen at your nearest Johnno's Camper Trailer agent.
| | | |
| --- | --- | --- |
| | | |
| the Eclipse | setup | Hyland hitch |
| | | |
| jerry holder | carpeted storage | kitchen |
| | | |
| stove | chassis water storage | suspension |
information supplied by Gary Brown
writeup by Rob
February 2010