frankland
follow me campers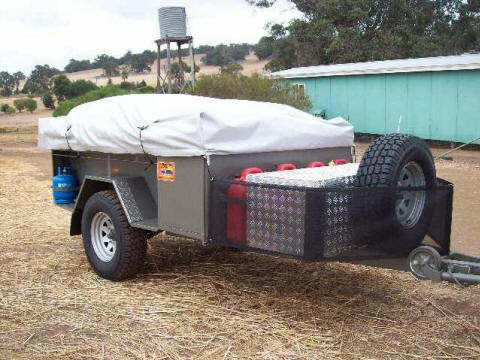 Follow Me Campers in Wangara Western Australia has just released a new off road camper trailer model called the Frankland which features the now popular walkway at the end of the bed.

The Australian made tent opens to 10 foot wide or 3.0 metres x 2.65 metres long with a 2.4 metre awning. There are generous sized screened windows on the tent especially around the bed area which can be zipped up from the inside so you don't have to go running outside in the middle of the night dropping canvas windows covers if the weather changes. Two window awnings, one running the length of the bed & the other on the opposite site can provide ventilation by pegging open keeping the rain out.

Stepping up into the carpeted walkway section is assisted at night by a light. There is also a well placed 12 volt outlet where a fridge can be plugged in when travelling or perhaps a fan on a hot night. The tent base on the trailer is gas strut assisted to gain easy access to the contents from above.
The heavy duty off road trailer can be powder coated to a colour of your choice & features a Treg hitch, electric brakes, wind down stabiliser legs, a spare hub & three new 15" rims and tyres. Behind the axle on the trailers sides there is storage for the battery & 4kg gas bottle while underneath there is the watertank with a lockable filler. The drawbar holds a large toolbox, the sparewheel, four jerry cans sitting behind the stoneguard.
The kitchen is mounted on the swinging tailgate with a clip on bench top that provides an L shape kitchen for extra preparation surface.
The Follow Me Campers Frankland is priced at $20,990, the Frankland Deluxe $24,490& come with 12 months registration & a one year warranty on trailer & tent.
For more details please contact George & Teresa at Follow Me Campers.
thanks to George & Teresa Minaides from Follow Me Campers for providing this information
write up by Rob
march 2010
updated december 2013