instantaneous portable
gas hot water system
by Margaret Durante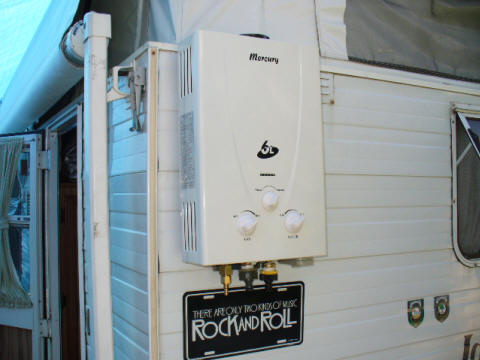 We first saw Mercury HW60 operating at the Gympie Muster and just had to have one. What a great idea.
It simply hangs virtually on anything that is stable. We have ours on a bracket on the back of our van. It was attached to a post when we bought it. The heater comes with a pump that produces 3.8 litres per minute, much better pressure than our $20 job - girls it's great for washing your hair.
We also have a thing about how much water we use. With our old system we got two showers without turning off the water from less than 20 litres including washing hair. The new pump does not use any more water than the old one, mainly because you get more water and don't need as much time to rinse off, hence saving water.
The Mercury HW60 was $400 at Rod's Country Camping Gear. There are no hose attachments included in the price, just need 2 regular hose attachments and a snap on/off gas fitting, a longer gas hose and 2 pieces of regular garden hose to what ever length you require.

We have our shower pump connected to a simple small red jump start battery pack which we can get more than 10 days straight out of it just running the shower. We have changed the wiring slightly so we can now turn it on/off from inside the shower tent. Every time you turn the water off, the pilot light will go out and when you turn the water back on the pilot light will automatically fire up and you have hot water. Once you have adjusted the controls to what temperature you require there is no need to change it.
Speaking to a few people that had them, one guy uses a small plastic garbage bin full of water so he doesn't have to keep carrying water. You can run the hose into your camper/caravan tank or just out of a 20lt plastic bucket.
how it works
Water passes through a set of coils that function like a boiler. A computer sensor ignites a burner, which heats the coils. Water heats up within seconds. The system shuts off when the water flow ends.
Mercury tankless gas water heater HW60 specs
unit dimensions - 430 x 279 x 100mm
weight - 4.7 kg
flow rate - 6 liters per minute 25 C @ 1.59 gpm
heat output - 12000 watt - ( 40,946 Btu /hr )
ultra low water pressure start IC water control device
no electrical hook up
no standing pilot
20-min timing shut-off to avoid CO toxicoses accidents

Safety features include a flame failure safety device, over water pressure protection, frostbite protection, dry burning protection & an anti - wind flow back device.

The Mercury HW60 requires no standing pilot light with the unit using two D size batteries to ignite the electronic spark module or pilot light.
There are two water temperature level setting, Summer & Winter.
If installed inside a caravan etc a flue should be installed on this unit either vertical or horizontal through a wall 3ft vertical to 1ft horizontal.
The Mercury HW60 comes with a 12 month warranty.
Rod's Country Camping Gear can be contacted on 0418 423 610.
december 2008