kimberley kampers
launches new 2011 models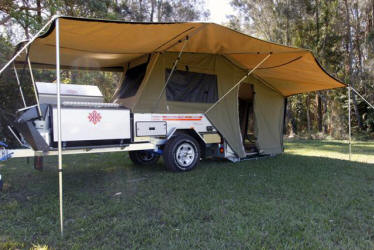 Kimberley Kampers have just released some exciting new products to their 2011 model range as well as a new instant self-serve customer service system. Included in the new range of camper trailers is an innerspring mattress with pocket springs designed so you can get in and out bed without 'rocking' your partner, a dash media centre, new roofracks on the Kamper series, a massive new family room for large families and the new MyCube rooftop tent.
The new instant self-serve customer service system will be the first in the industry to allow Kimberley Kamper owners to log in to a secure customer web site which has the chassis number, VIN and unit history. You will then have access to over 130 documents including travel, product information, manuals, tips and videos.
Kimberley Kampers have been manufacturing camper trailers since 1996. Check the full range of 2011 model updated on the Kimberley Kampers website at www.kimberleykampers.com

thanks to Kimberley Kampers Design & Marketing Manager Cameron Johnston for the information
november 2010