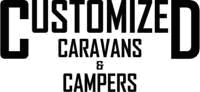 mobile services & caravan hire
customized caravans & campers
A new business in the Newcastle area is Customized Caravans & Campers which provides personal caravan & camper servicing at you door. Jarrod Booth as been in the recreational vehicle industry for a long time & saw the need for such a service. Jarrod says he does just about anything to do with caravans and trailers from servicing to accessory fit outs at a place and time convenient for you. You do not need to drag the caravan or camper to a business, Jarrod is mobile & comes to you at your home, work, storage yard or campsite.
Servicing starts at $99 & for piece of mind Jarrod goes over your caravan or trailer prior to a trip or as apart of your annual servicing. For the $99 introductory maintenance special he will check your bearings, breaks, suspension, traffic lights and tyres are in good operating condition.

Jarrod will also come to you to discuss your options, quote and fit caravan annexes from $1599. You can choose from standard options or he can help you customize your own.
Technology is always improving and Jarrod can customized your van, boat or 4WD and bring it up to date with the latest energy technologies including the supply and installation of battery systems, solar systems & low power consumption LED lighting.
Customized Caravans and Caampers also hires the Avan Ray 14 MKII which is a slide out pop-top caravan with double bunks for the kids. It is compact and easy to tow, the master bed slides out the back giving the van an equivalent size of a 17' caravan. It includes air conditioning, TV/DVD player, fridge, microwave, stove top & grill, a generous living area, dinette sits four adults comfortably, complete with a full kitchen kit including pots & pans, plates, bowls, mugs, cups, cutlery, toaster, kettle and cleaning equipment all from $395.
Jarrod can be contacted via his website www.customizedcaravansandcampers.com.au or phone 0407 209 493




june 2010