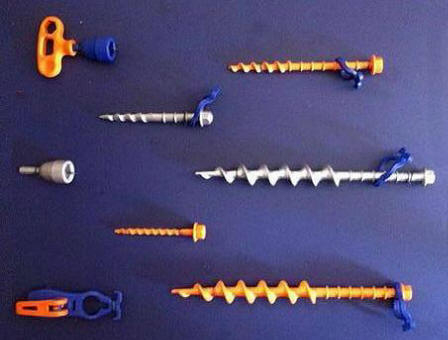 The award winning German made Peggy Pegs are a range of tent pegs that screw into the ground using a cordless drill or by hand rather than hammering in the usual way. Made from UV reinforced fibreglass or aluminium, they come in various sizes and in kits depending on your needs.
They are suitable for all ground types from soft sand through to hard packed or rocky ground and are typically five times lighter than a conventional metal peg and with around ten times the grip. The pegs are slightly flexible with good torque resistance. They will twist through approximately forty-five degrees before breaking. When you feel the peg twisting, you know that it's securely anchored in place.
Pete and Di Browne of Lock Down Fixings live in Sydney and are the importers and distributers of Peggy Pegs. They are keen camper trailer owners and after one windy night looked at a better way to anchor the awning. Following enquiries from friends, relatives and fellow campers, Pete and Di approached the manufacturer to supply the Peggy Peg range in Australia and New Zealand.
There is also a range of accessories available including awning ground plates and tarp clamps.
For more information please contact Pete and Di on their website at http://www.peggypeg.com.au

Thanks to Pete and Di Browne of Lock Down Fixings for the info
article by Rob