Smart Start
battery management system
BMS1215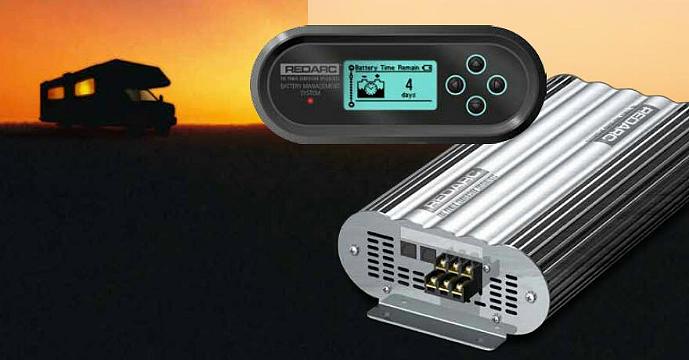 The Redarc Battery Management System is a complete solution to battery charging and maintenance including a 240v 15amp 5 stage charger, (3 stage in touring mode), 12volt DC – DC 20amp 3 stage charger and a 20amp 3 stage Solar Regulator. The unit features a remote monitor with an LCD readout providing live data on the battery status, charging and other critical information.

The kit is supplied with…
Main Unit
Remote Monitor
Current Shunt
Temperature Sensor
and some Cables.

The unit can be setup to work with a choice of three battery types, AGM/GEL, Lead Acid or Calcium. It can manage a battery capacity of 40 – 400 amp hour and also features a battery temperature sensor. The system uses a current shunt on the negative side of the battery to monitor all current flowing in and out of the battery; this data is then displayed on the remote monitor.

I fitted the system into the front box on our Lifestyle Camper Trailer, as this keeps it out of harm's way and secure. The LCD display is backlit which makes it really easy to see in the dark. All up it only took me a couple of hours to fit. One of the best things about the system is the DC-DC three stage charger, this means that the camper batteries will be charged properly when we are travelling and eliminates the problem of voltage drop. It also automatically disconnects itself from the vehicle when we pull over or stop the car, so it won't discharge the car battery. I also like the fact that I get to see the total ins and outs for the batteries charging on 240volt, solar or driving or any combination of the above.
Smart Start BMS1215 manual http://redarc.com.au/static/files/BMS1215-Instruction-Manual-A5-I.pdf
Flyer http://redarc.com.au/static/files/BMS1215-flyer.pdf
Pat Callinan's report http://redarc.com.au/media/bms-review


| | |
| --- | --- |
| | |
| This screen displays the charge stage and charging current | This displays the selected input source with AC being the highest priority, followed by DC and thensolar. |
| | |
| This screen displays the estimated state of charge of the house battery in percentage along with a bar graph. | This screen displays the current drawn from the battery. |
| | |
| Complete system installed in front box. | Fuse box and earth bar. 50amp circuit breaker not visible in photo. |
| | |
| 2 x 115ah deep cycle batteries mounted on side of trailer, fuse box and earth bar in front of batteries. | Current shunt, measures all current flowing in and out of the batteries via the negative side of the circuit. |
| | |
| Battery temperature sensor. Mounts on the negative terminal of the battery to monitor battery temperature. | Lifestyle 360i Camper Trailer. Redarc system is mounted in the front Box. Batteries located on the Passenger side of trailer. |
thanks to Rod Luhrs for sharing this with us
july 2009