spreader bar support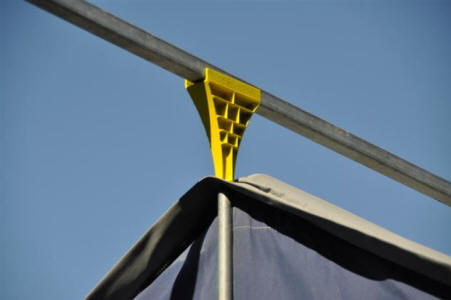 A silver tarp over the camper reflects the heat during summer & makes it a lot cooler inside. Having a gap between the campers roof & the tarp allows the breeze to pass between the two making for better cooling efficiency.
Graham Brown has come up with a fantastic solution to keeping the tarp above the canvas with the Spreader Bar Support. The plastic moulded SBS 170mm in height, 130mm wide at top & 27mm bottom with a 8mm hole in the bottom to take the tentpole spigot.
The SBS simply fits over the tentpole spiggot & allows a ridgebar to fit into its top. No more sagging canvas over the camper.
The SBS can be purchased direct from Graham at gracel3@optusnet.com.au or phone 0415 300 743 for $15.00 each plus $5.00 P&H by surface mail to anywhere in Australia.
thanks to Graham for the infomation
august 2010