Barry and Lyn's Supreme Getaway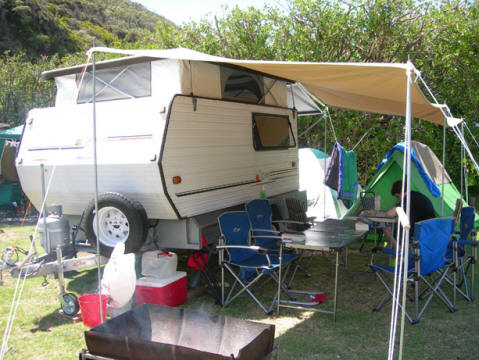 The first photos show the caravan in it's original condition. The top loading fridge was impractical as the bench had to be lifted each time something was needed, (getting a beer during food preparation was almost cause for divorce!) .
The drawers were worn and hard to open. We decided to remove the entire kitchen area and replace it with a more practical design. We didn't need extras such as a microwave and griller but did want bench space, two large burners, a sink large enough to fit dishes in and a cupboard with hanging space.
Future plans include replacing the cabinets over the bed and reupholstering the seating area. On the outside we added a solar panel and awning. We plan on tidying up the draw bar by replacing the 9kg bottle with two 4.5kg bottles, replacing the battery with a sealed gel battery and placing it under the bed. Another possibility is an outdoor cooker/kitchen area which will slide out.
Thanks to Barry & Lyn for showing us around their camper trailer.