Tanami Pro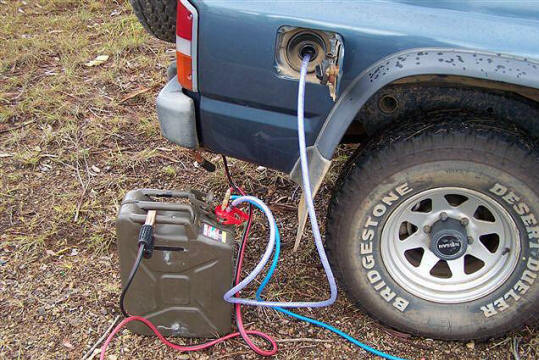 Extreme Limits Offroad have just released an updated version of their popular Tanami Pump. The new Tanami Pro comes with.....
Tanami Pro Pump body is powdercoated corrosion resistant red

Pressure relief valve set at 5lb

2 metres of 10mm fuel grade clear hose & hose clamp

Tyre valve air inlet

Operating & safety instructions
using it
Fuel transfer from the jerry is made very simple with the Tanami Pump replacing the lockdown cap on the jerry. The 10mm hose is placed in the vehicles fuel inlet, while your 12 volt tyre compressor is connected to the air inlet valve. An earth lead like a battery jumper cable needs to be placed between the jerry & the vehicle to reduce the possibility of static electricity.
Transfer of fuel with a low pressure air compressor will take around 1.5 to 2.5 minutes. The Tanami Pump will not work any more efficiently with a high volume air compressor or a 240 volt air compressor. The high pressure from these compressors could see the fuel spill onto the ground or cause the jerry to rupture causing a situation for a fire.
safety
Use in a well ventilated area. Be aware of static electricity, hot exhausts, electrical components (the compressor) & naked flames (3way fridge)

Keep the compressor at least 4 metres from the Tanami Pump & the fuel fumes from the open tank

Fuel travelling through the hose causes static electricity. Please use an earth cable between the jerry & the vehicle like a jumper lead.

Only use low volume 12volt air compressors, never a 240volt high volume compressor

Do not block fuel hose

Fuel fumes can cause an explosion
other versions
Other versions include the Canning for 205 litre & 60litre drums. Upcoming versions with be Birdsville-1 for the Willow, the Birdsville-2 for the Fuelsafe & the Birdsville-3 for the Wedco jerry style fuel cans.
More details can be seen on the Tanami Pump website. Thanks to the NSW agent Ian Porteous of Dreamtime Campers in Newcastle for the chance to have a look & photograph the Tanami Pro.

info by Rob
february 2009