VISTA RV
2010 upgrade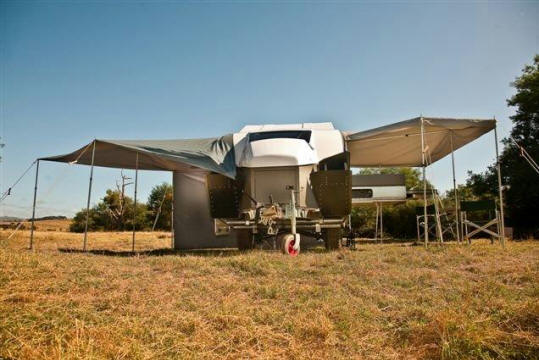 on the outside
On the outside the Crossover now features a full sail track that is integrated with the moulding on both sides of the van enabling the sail awning to be used either side or with the annexe roof on the passenger side and the sail on the divers side.
Further new lockers fabricated from galvanised powder coated steel with new seals give bigger battery capacity, now at 200 amp hour as an option and access internally to cupboard area. The storage under the cone boot has been increased to allow a 2kw Honda generator to be carried.
on the inside
Inside the kitchen has been changed with the addition of an extra draw and tap location changed from the sink to the main body of the kitchen while the fridge capacity has been increased to 80 litre and cupboards changed giving open storage underneath.

The table now uses a gas strut mechanism that goes up and down allowing the table to swung sideways giving better access to seating. Led lights are on stalks for reading at the bed head. There are self closing latches on the doors and an extra led light above table area.
The Vista RV website can be found at http://www.vistarv.com.au

| | | |
| --- | --- | --- |
| | | |
| | | |
| | | |
| | | |
| | | |
info & photos supplied by Ian Porteous Dreamtime Campers Newcastle
july 2010