40 litre engel
power draw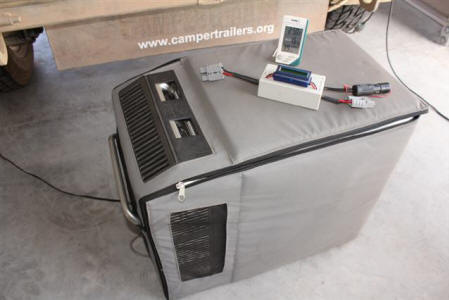 A little experiment I preformed in the garage at home monitoring the draw of our empty 40 litre Engel fridge freezer running on the camper trailer battery which was hooked up to a 240volt multi stage charger to provide a constant power supply. The fridge remained closed for the test period. No doubt the power consumed would be a little more if the fridge was opened & items at ambient temperature were placed in it.
The fridge was first run at the one & a third setting on the dial, showing an internal temperature of 2.5 degrees celcius which was also checked internally with a thermometer. This is the temperature we usually run when camping. Once the temperature was stable the test commenced.
On a recent trip under similar conditions with an overnight temperature of 10 degrees & 20 during the day, the Watt's Up Meter showed the fridge used 10 amp hours over a 24 hour period in the back of the Jeep. On another occasion with an overnight temperature of 20 degrees celcius & 30 during the day, the fridge used 20 amp hours over 24 hours under the awning of the camper.
In the garage the fridge was lowered to the three setting on the dial producing minus 15 degrees running as a freezer to see just how much more power was consumed. Once again when the internal temperature was stable the test commenced. The internal thermometer showed the freezer was between minus 11 to minus 17 degrees during the test period. Having no idea of the outcome I was surprised to see the fridge used three times the power running as a freezer.
I hope this gives you a little insight into what the power consumption of a fridge may be.
controlled test figures
fridge setting on the dial
fridge temp setting showing
internal temp with thermometer
ambient max temp
ambient min temp
amp draw
amp hours over 24 hours
average amp draw
1.3
2.5
2.5
23
13
2.5
10
0.4
3
-12
-11.3
22
11
2.5
30
1.25
actual figures in the field
fridge setting on the dial
fridge temp setting showing
ambient min temp
ambient max temp
amp hours used over 24 hour period
average amp draw
run time
1.3
2.5 celcius
10 celcius
20 celcius
10
0.4
one-sixth
1.3
2.5 celcius
20 celcius
30 celcius
20
0.83
one-third
1.3
2.5 celcius
30 celcius
40 celcius
40
1.6
two-thirds
by Rob
september 2013