HANDIEST ITEM AROUND CAMP 2006
For those of you who don't know "CT", let me introduce him.
He came into our family as a gift from our good friends Keith, Jenny and David for my birthday last year. He is named "CT" for Camper trailer trained.
For a start he does not poo or wee, needs very little feeding, however, he does like his head patted if anyone walks by.
He is rather a sweet gentle little fellow. However, he has been know to nip at the heels of those who come too close and is also known to bark if not spoken to rather sternly by his master or mistress, and, he will respond to others who tell him to shush. He is a very obedient
He does have certain duties to perform when camping.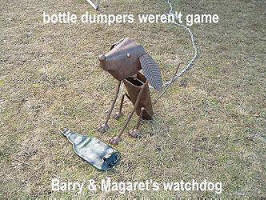 As we all know it is important to share jobs when on the track, (no one gets a free ride) so he's main duty is to guard "Lilly" our Ultimate, he does this with gusto, so much so that he really must be chained up, dear little fellow does not seem to mind at all. Of course this chaining up is to comply with some camp ground rules.
We do leave him with some refreshments. However, I am really concerned for once we left him with a green bottle of water (well I THINK it was water, would never leave wine would we?) and off we went for a drive (it was rather a hot day), when we returned the bottle was not only empty but had been sucked flat. Can't figure how he managed that one!
We have discovered a by-the-way of "CT", he tries really hard to keep those bloody bottle dumpers away from "Lilly", and for a while he really did a fantastic job. Unfortunately for "CT" the "BBD" got smart, they now sneak up behind him and silently PLACE the bottles, no more chucking them. I fear this has slightly tarnished his image.
He has a great sense of humour and does love to share a joke with whom ever. His little head shakes, his little tail wags and his beady little eyes fairly sparkle with delight.
He is just such a friendly little guy, even magpies love him. The odd cat and dog have been know to approach with caution.
I think he does deserve the title "Handiest thing for the Camp". He gives so much pleasure to so many, asking so little in return, and he has spawned a whole new genre of pets. Wonderful.
Margaret aka grannyshortlegs