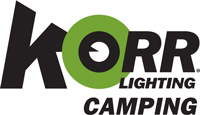 korr lighting
camp light kit 4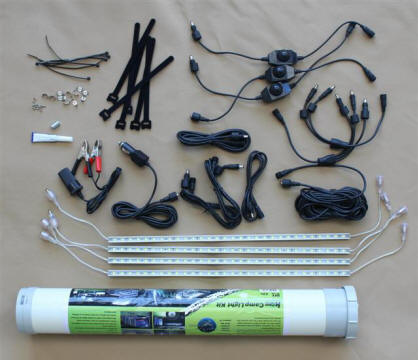 what you get in the camp lighting kit 4
I recently had the opportunity to test Korr's Lighting, Camp Light Kit 4. Everything in the LED lighting kit comes in a handy PVC tube with a screwed cap to keep all components together as well as keeping the LED strip bars safe while travelling.
The LED lighting kit comes with a number of cables in different lengths, quick connectors, dimmer switches which are also handy on/off switches and mounting hardware to suit any application around your camper trailer. You get.....
4 x high power 50cm LED Light bars
3 x dimmer switch which are on/off switches as well
1 x 3metre quick connect cable with cigarette attachment
1 x 10metre quick connect cable
1 x battery terminal clamps to cigarette adaptor
3 x 1.2metre cables with quick connects
1 x 2.5metre cable with quick connects
2 x splitter cables with quick connects
6 x velcro wraps for mounting
8 x magnets for mounting
6 x zip-ties for mounting
1 x reusable container
1 x super glue
6 x mounting clips
First up I glued the magnets to the back of the LED light bars with superglue that was supplied in the kit. This made for quick & easy mounting to the ridge bar of the awning for future use. I joined the four LED's into pairs with help of the two-way splitter cable, the added a dimmer on/off switch to a short cable to reach the 12volt outlet and ended the length with the cigarette lighter plug. Joining cables is made easy with the used of the waterproof screw together connectors making for a positive connection that will not fall apart.
With the LED's in pairs and mounted on the ridge bar the whole underneath of the awning was well lit in a white light. Each LED light itself is very efficient and only consumes 500 milliamps. Now the best bit is after you have used the lights for tea and washing up, you can reduce the light intensity and therefore the power consumption via the dimmer switch.
I could have set up the two rows of lights with their own dimmer, however the way you set up the lighting kit is unlimited with the number of cables, splitters, dimmers and connectors that are supplied with the kit.
The four LED light kit preformed well with enough white light to read a book under. It is an excellent compact kit and great value for money.
All Korr Lighting products come with a 2 year warranty and 30 day money back guarantee. More details can be found on their website at http://korrlighting.com.au

| | |
| --- | --- |
| | |
| LED strips in set up in pairs | dimmer on/off switch |
| | |
| awning area bathed in white light | LED lights at full power |
update
The boys at Korr Lighting have been listening to customer feedback & have released the second edition LED rigid bar which now includes an inbuilt magnet. Previous lighting kits came with magnets & superglue for self assembly. The glue had a tendency to let go in cold weather. Cable is also a little heavier to reduce voltage drop.
| | |
| --- | --- |
| | |
| installed magnets | 50cm LED rigid bar |
The Korr third generation LED light bars now have the cable upgraded where it enters the bar where it was breaking at this point. The new moulded cable entry seems to have done the trick.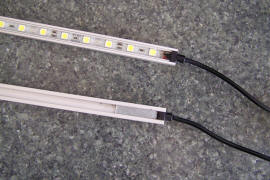 updated moulded cabling
article by Rob
april 2016
march 2012
updated may 2013