Securing your camper trailer
Camper trailers are an increasing easy target for thieves, stealing them from driveways, backyards as well as locked garages. Leaving a camper trailer on the nature strip in front of a house is definitely an invitation for thieves. In some circumstances the nature strip may be the only place to leave your camper, especially in the inner city suburbs. In these instances you need to make sure you are vigilant with your security. Once taken camper trailers are hard to identify, being easy to repaint & sell off. Most camper trailers based on a box trailer are registered as a box trailer only. All the thief needs to do is buy an old box trailer for a small amount & place the plates on the stolen camper.
A number of camper trailer manufacturers do have identifying serial numbers welded to the chassis. Altering or removing these numbers will be evident especially on a galvanised chassis. If you are buying a preloved camper, ask the manufacturer where the serial number can be found or check the stolen campers page on the the campertrailers.org website.
The best you can do is to make sure some sort of anti theft device is fitted making it hard for the opportunist thief to take your camper trailer. This also applies when you are out camping & have left your camper setup & gone sightseeing for the day.
You can make your camper look as you are not too far away by leaving chairs set up with cups at the table, towels or shirts hanging up drying around the awning etc. This will make camp look as if you have just gone for a short walk or ducked to the shop. If you have any camping neighbours that are hanging around the camping area for the day, let them know what you are doing & ask if they would keep an eye out. Just invite them over for happy hour when you get back or a taste of your camp oven made dessert for supper.
If a thief is out to steal a camper trailer, they will have all the gear necessary & the operation will be well planned. If this is the case there is little that will stop them.
Check with your insurer as you may receive a reduced premium for fitting some form of anti theft device when your camper trailer is stored at home. Some devices are also approved by insurers & will be stated on the packaging.
diy
A simple thief proof solution can be a length of high tensile chain through the spokes of your campers wheel & wrapped around the axle secured with a quality padlock. Add some plastic tubing to the chain so it will not chip the paint off the rims. Another could be to padlock your safety chain to the towbar while you are parked in town shopping or walking to a nearby scenic lookout. Put a dob of weld on the couplings thread so it cannot be unbolted from the tow tongue. Please note that a padlock does not replace the shackle when towing & could void your insurance in the event of an accident.
wheel clamps
Wheel clamps area the most visible deterrent to the casual thief. In the attempt to remove a wheel clamp there will be plenty of noise to alert you or your neighbours. There are several brands of wheel clamps available on the market in sizes to match the wheels on your camper trailer.
Barrier have the Scorpion wheel clamp which is easily fitted to a wide range of wheels from large 4WDs to small sedans including trailers & caravans including mag wheels not needing the removal of wheel trims. The steel clamp is fitted to the outside only using a high tensile steel chain & a tensioning system. All parts pack neatly inside the wheel clamp for easy storage or transport.
Klamp It produce wheel clamps in five sizes, from Size 'A' that suit the smaller wheels on boat trailers through to Size 'E' for the larger 4wd wheels. They include a key lock. The Klamp It is priced from $200 to $300.
Trojan have two models, the Sentry in three sizes & the Defender in two sizes. Both models have a zinc & powder coated finish & are supplied with a high quality lock.
Trailer Security Wheel Clamp are all Australian made & have three models, the Supreme, Enforcer & Protector. The shield that stands in front of the wheel is made from 2mm thick laser cut stainless steel. There are four specifically placed holes. The supplied 10mm high tensile chain passes through the two bottom holes, under the campers springs & back through the two top holes, locked at the front with the supplied padlock in both the Enforcer & Protector models. The Supreme uses a patented padlock protection locking system, designed to stop all methods used to break a padlock. These clamps are priced from $399, $499 and $599.

Ultimate Wheel Lock is made from hardened steel & fits wheels up to 29cm wide. Priced at $100

| | | | |
| --- | --- | --- | --- |
| | | | |
| Barrier Scorpion | Klamp It | Trojan Sentry | Trojan Defender |
towball locks
There are a number of devices on the market to render a ball coupling incapable of fitting onto the tow ball. They simply fit in or over the coupling & makes connection virtually impossible. Most towball locks are made from hardened steel to prevent the use of a hacksaw & are designed to lock the trailer coupling when disconnected or in some types connected to the tow vehicle, however most of these cannot be used when towing.
Trailer Cop simply expands in the ball coupling with the use of an allen key & is locked into position with a chrome plated brass lock for longer life. It can be used for locking of all types of cast iron or cast steel 50mm trailer couplings. Around $35.
Coupling Lock There are a few different brands & types of two piece coupling locks which simply fit onto your ball coupling & secured with a padlock. These can also be used when your camper is attached to your vehicle, but it is not recommended you drive with this attached. They are priced around the $30 mark.
Arc Trailer Lock Two models. ATL15 comes with the trailer lock only while the ATL155 comes with a pin lock for the towbar itself.
Talon Trailer Lock secures your trailer both on and off your hitch with the simple turn of a key. Made from fully cast marine grade 316 stainless steel. Two models available, FATL140 Talon Trailer Lock only & the FATL145 which includes a hitch locking pin.
Helmet Hitch has a solid metal construction & minimises theft while trailer is connected or free standing. Priced at $230.

| | | |
| --- | --- | --- |
| | | |
| Trailer Cop | Trailer Cop | Trailer Cop |
| | | | |
| --- | --- | --- | --- |
| | | | |
| coupling lock | coupling lock | coupling lock | Arc Trailer Lock |
hitch pins
Replacing your existing hitch pin with a locking version is a good move because it is all too easy to remove the pin and push the receiver assembly out, trailer & all. There are a number of manufacturers who make locking hitch pins to suit the receiver type towbar. Trailer locks are designed to slow down criminals, make them create noise & attention. A rubber cap over the locks barrel is a good idea if you are going off road.
Talon, Hayman Reese, Ark & Couple Mate manufacturer locking hitch pins. Prices around $30.
Couple Mate have a lock which fits either the existing hitch pin & the T-bar pin of the Treg, Trigg & AT35 couplings. It costs $16.
Fulton have a similar lock. It is a twist-on design, built of corrosion-resistant brass.

off road coupling locking T-pins
For those who have a Treg or AT35 off road coupling there are locks that replace the T-pin.
Talon produce the stainless steel FATL160 which replaces the T-bar complete with cylinder lock & dust cover. The FATL155 has both the T-bar pin lock & hitch lock in the one package. Both locks are keyed alike. A FATL170 model suits the AT35 coupling while the FATL175 has both the T-bar lock & hitch lock in the one package for the AT35. Both locks are keyed alike & with a dust cap.
| | |
| --- | --- |
| | |
| Talon FATL160 for Treg | Talon FATL170 for AT35 |
| | |
| Talon FATL155 for Treg | Talon FATL175 for AT35 |
do35 coupling
Vehicle Components also make a lock for their DO35 Hitchmaster coupling made of aluminium & stainless steel. The dummy pin is inserted into the DO35 from the bottom end and the tip of the pin protrudes out the top & fitted by a lock.
pintle hook coupling
Couple Mate also make a lock for the pintle hook. It has been especially developed from zinc plated steel with a solid flap to protect the lock from bolt cutters & saw blades. This simple pintle lock fits 2" & 3" pintle hook trailer couplings & helps prevent thieves from stealing your trailer. Padlock is included. Cost is around $50.

| | |
| --- | --- |
| | |
| Pintle Lock | Pintle Lock |
electronic
The Australian made CUDA Alarm is a portable alarm that is powered internally by two 9 volt batteries and controlled by a micro-processor. Any attempt to move the trailer will trigger the alarm resulting in activation of the 103db siren for 30 seconds. The alarm will then automatically reset to "active" monitoring mode. If the trailer is stolen the alarm will continually sound until the towing vehicle and/or trailer is stationary. The CUDA is no longer sold.
| | | |
| --- | --- | --- |
| | | |
| Cuda Alarms | in position | on trailer |
The Pitbull Trailer Alarm is designed & manufactured in Australia & is triggered by movement. The sensitivity of the vibration can be adjusted to suit the users requirements from the lightest of taps to the heaviest bumps to activate the loud siren. The rechargeable lithium polymer battery will last 30 plus days when actvated & comes with a 240 volt charger while an optional small solar panel is alos available.

gps trackers
SPOT HUG uses GPS technology to let a monitoring centre know if your camper trailer has moved more that 500 metres. The transceiver comes with four lithium AA batteries & cabling for optional 12volt external power supply. If the external power supply is cut then the lithium batteries come into use. You need to turn the monitor off before heading away for the weekend as it will assume it is unauthorised use, notifying the monitoring station in the USA who in turn will send you a txt message.
| | |
| --- | --- |
| | |
| SPOT HUG | GPS, keypad & fob |
CCA Vehicle Tracker is a self monitoring GPS tracker that can be placed in your camper trailer & works similar to a mobile phone, sending & receiving SMS messages from up to three authorised numbers operating off a pre-paid SIM card. You simply call the device from your mobile phone, let it ring twice & end the call. Within a few seconds a return SMS will be forwarded to your phone with the GPS co-ordinates of the trackers location.
The Vehicle Tracker is connected to a 12volt power supply & features an internal backup lithium battery to run the unit for up to thirty-six hours if the power supply is cut or low. There are two versions, a plug & ply and the hardwired model.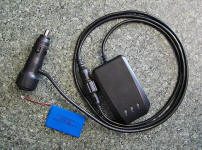 plug & play model
article by Rob
july 2008
updated december 2014