nsw
spring hill weekend
Saturday 26th to Sunday 27th March, 2022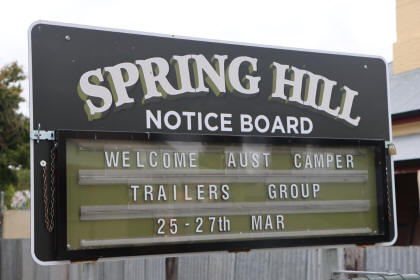 The Spring Hill Australian CamperTrailers Group members weekend was held at the Spring Hill Recreation Ground near Orange NSW on the weekend of 26th & 27th of March 2022. It was great to see the welcoming signs on arrival throughout the village.

The weather overall saw a few showers with magnificent sunsets each evening.

We were greeted by Tracy and Colleen who service the recreation ground and looked after the area for the weekend.

On Saturday the group toured the old Wentworth Gold Mine Museum at nearby Lucknow which was specially opened for us by arrangement through the Orange Council. A big thanks to Alison the councils heritage officer.

Saturday afternoon saw a happy hour group gathering, where a name was pulled from the hat for a bottle of wine kindly donated by Tracy. This was won by Joy.

On Sunday the group had lunch at the Railway Hotel, with thanks to Narelle for the menu and fitting us in on a very busy day.

The skies were cloudy, but a good weekend was had by all and Pauline & I thank you for coming .

See you next time.

Geoff & Pauline

photos from Rob