total fire bans
in australian states
What is a Total Fire Ban?
A total fire ban may be declared for days when fires are likely to escape and be difficult to contain for public safety. Extreme fire danger is caused by a combination of dry vegetation and hot, dry, windy weather. The Bureau of Meteorology provides advice on forecast weather conditions and fire danger ratings during the Bushfire Danger Period.
The Rural Fire Services Commissioner in each state declares Total Fire Bans based on this advice and other information. This decision is generally made at around 5pm each afternoon during the Bushfire Danger Period and the Total Fire Ban applies for the following day, starting from midnight and lasting 24 hours. The RFS Commissioner is also responsible for exemptions to Total Fire Bans. A range of activities may be exempt from Total Fire Bans, such as emergency infrastructure work or ceremonial fires. These are detailed each time a ban is declared.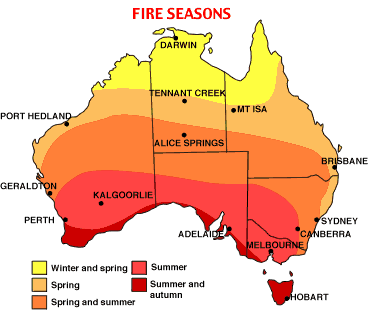 How is a Total Fire Ban determined?
During a total fire ban certain restrictions apply to lighting fires in the open which applies when we are camping. The degree of fire danger is calculated using information on temperature, wind speed, relative humidity and the drought factor (how dry the vegetation is). This information is forwarded to bushfire services from the Bureau of Meteorology twice a day. The mid-afternoon weather statement is used to determine the need for a total Fire Ban the following day.
How will I know if a Total Fire Ban is declared?
Announcements are made in newspapers, radio & on television. When travelling & camping try listening to the evening or morning news on a local radio station for fire restriction warnings updates & Total Fire Ban warnings.
What are Fire Areas?
A new process for declaring Total Fire Bans & delivering fire weather information is now being used. The declarations were previously based on the Bureau of Meteorology Weather Forecast Districts. Declarations are now based on Fire Areas which are smaller & based on local government area boundaries. This means fire weather information and Total Fire Bans are more specific to local conditions.
Total Fire Ban Rules
Each state has their own specific rules for Total Fire Ban days. Please check with the local authorities you are travelling & camping in to make certain what Total Fire Ban rules apply to you.
If in doubt it is best not to light a fire in the open during a Total Fire Ban. This includes incinerators & barbecues which burn solid fuel, e.g. wood or charcoal, however in some states gas & electric barbecues may be used if.....
it is on a residential property within 20m of the house or dwelling

if it is a picnic area and the appliance is approved by council, National Park or State Forest

it is under the direct control of an adult

the ground within 2m of the barbecue is cleared of all materials which could burn

you have an immediate and continuous supply of water available.
Fines and penalties
Lighting a fire on a day of Total Fire Ban can attract a fine of up to $5,500 and/or 12 months gaol in some states. Penalties for a fire that escapes and damages or destroys life, property or the environment can attract much greater fines & gaol terms with maximums at $100,000 and/or 14 years.
Civil law suits can also be brought against the person responsible for a fire by those seeking compensation for losses sustained. For public safety, a Total Fire Ban is declared for days when fires are likely to escape and be difficult to contain.
What are the Total Fire Ban rules for each state?
In some states such as Northern Territory, Western & South Australia there is a Total Fire Ban over the summer fire period. By hitting the state bush fire services icon below, you will find information on that particular state & the rules or restrictions that apply or during a declared Total Fire Ban day.