diy portable 12volt power supply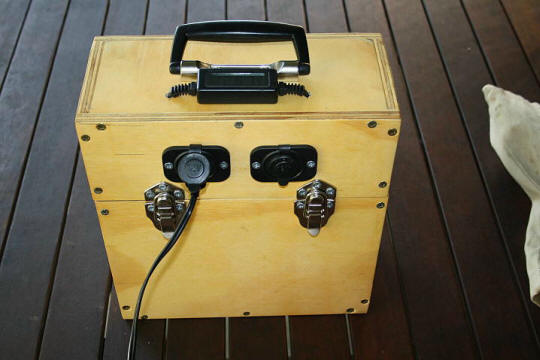 I have been a convert to 12 volt fluorescent lighting for the last 12 years or so after I purchased a Versa-Lite lead light. So impressive is this light that it easily out-performed three gas lights and dismayed and converted my friends.

I have always operated these lights from the accessory socket in the 4WD, however am not always camped near the car and the underlying possibility of a flat battery is always a concern. What I needed was a way of getting a battery safely to the campsite. I have had friends that have carted old car batteries and lights connected by alligator clips and seen the subsequent damage from spills and the difficulty of carting these to the camp.

There are numerous battery packs available on the market but have always found the costs prohibitive, so I decided on a DIY option.

I was fortunate to stumble across a 12v 39A/h sealed lead acid (SLA) battery unwanted by a friend for a princely sum of a Carton of XXXX. Most of my trips are long weekends, my demands are low, and I only run lighting and the occasional use of an air bed inflator so this battery was perfect.

First the box, I needed the box to be fairly rugged, the battery weighs 15 plus kilograms so I screwed and glued some 12mm ply. The screws were countersunk and all the joints were glued. Made it a snug fit as I didnít want the battery flopping around in the box whilst travelling.

Sanded the box and sealed with the outdoor furniture oil I had at the back of the garage cupboard. Fitted hinges, luggage type catches and handle. Made sure that the handle was installed in the centre of the lid to evenly distribute the weight, this makes it easier to carry.

Now the wiring and fixtures all fitted in the lid,
4 way standard blade fuse box with copper wire soldered along the terminals on one side as a bus. First fuse is a 15A to protect the 12 volt supply.

2 accessory outlets mounted on the side of the box, each protected by their own 10A fuse.

Voltmeter fitted to the lid so I can measure progress of charge and discharge. Refer to the article on Collynís page for voltage/%charge ratios.

All wiring is 4mm≤ (conductor) and crimp terminated.

Ctek charger connects via the supplied connector.

This concept can be easily adapted to suit any battery capacity or size, just use a bit of common sense.

thanks to Grant Smith for sharing this idea
february 2009