The Raptor adjustable hitch has just been released by Mister Hitches after two years of development & testing in Australia. It features sixteen stages of height adjustment at 32mm increments. From towbar height the maximum adjustable height is 188mm while the maximum drop is 210mm depending on how the shank & tongue are positioned. An optional shank with give a rise to 350mm & a drop to 370mm.
The Raptor has a powder coated enamel finish & is compliant with ADR62/02. It is rated at 4500kg Gross Trailer Mass & has a 450kg towball capacity, suiting both 50mm & 70mm tow balls. Three-quarter inch high tensile bolts & nyloc nuts along with toothed conical washers are supplied with the hitch.

The Raptor is compatible with all major brand off road hitches used on camper trailers & caravans and is priced at $289. For more details check the website at https://intertradeholdings.com.au/mister-hitches.html
position 1 - 115mm - 147mm - 179mm - 210mm drop
position 2 - 80mm - 48mm - 16mm rise - 16mm drop
position 3 - 4mm - 36mm - 68mm - 100mm drop
position 4 - 92mm - 124mm - 156mm - 188mm rise
The rise & drop is measured from the top of the shank to the top of the ball platform.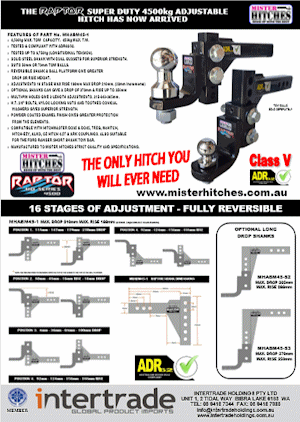 Thanks to Steve Nicholson of Intertrade Holdings Pty Ltd for the info


artilce by Rob