stoneguard ideas
Below you will find a few different ideas to help save the paintwork & glass on the rear of your vehicle when traveling on dirt roads as well as damage to the front of your camper trailer. Stone guards range from horizontally mounted shade cloth blinds to shade cloth deflectors on the front of the camper itself.
Other ideas include commercially available high impact polycarbonate glass protectors to a homemade piece of cardboard stuck to the rear glass with duck tape. There are also rubber flaps hung off the back bumper of the vehicle to ground level.
A combination of a few ideas below may make all the difference.

Cardboard or plywood glued onto the glass with silicone.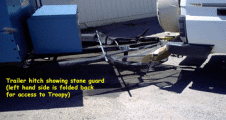 A horizontal shadecloth blind to stop rocks from bouncing up.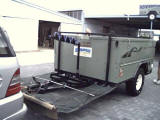 Another well positioned horizontal blind not only protects the rear of the vehicle, but the front on the trailer as well.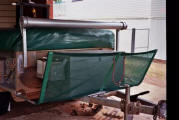 Shadecloth guard positioned across the front of the camper & angled down.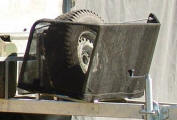 Another shadecloth stone guard which is tapered on the sides & is designed to deflect stones down & away from the front of the camper. This guard does not interfere with vehicles turning circle.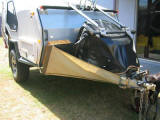 A great idea for a front mounted stone deflector on Grey & Kerryn's Tvan.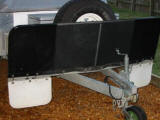 Shadecloth guard with mud flaps mounted. Make sure the guards position does not interfere with the vehicles turning circle & brake the tail lights.

Rubber flaps mounted to the rear of vehicle

<<<<<more Ian Wilkin Wilkins DIY stone guard fitted to the rear of the Patrol.

Bill Rumney's mudflap stoneguard is secured with four bolts on the under side if the bumper. The bolts go through a length of aluminium angle which the mudflaps are bolted to.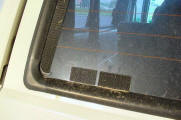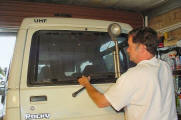 Here's a commercially available rear window protector from Mike O'Brien, OBIE'S OUTBACK REAR WINDOW SAVER. The Saver is made of high impact polycarbonate shaped to the window & attached using special purpose hook and loop tapes.

Here's an adjustable stoneguard from Alan Spencer. More>>>

Turtle's DIY camper stoneguard
Paul Trolove's horizontal stone blind on his Track Trailer Eagle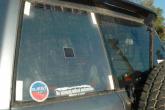 Malcolm Robins DIY polycarbonate rear window protector for his GU3 Patrol. more>>>>>

Richard Graylin modifies his Goldstream Camper Trailer stoneguard with hinges to allow the tailgate of the Prado to fully open. more>>>>>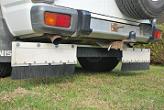 Ewan McLeod reinvents the rear vehicle mounted stone flap with his 'Stone Stranglers' adding a curtain of 'whiskers' which dampens the speed of the stones and gravel by absorbing the kinetic energy. more>>>>>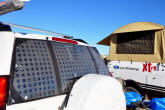 Anthony's rear window protector using interlocking rubber camping floor mats & 2 mm clear plastic from Clarks Rubber held in place with cloth-based gaffer tape.
info by Rob